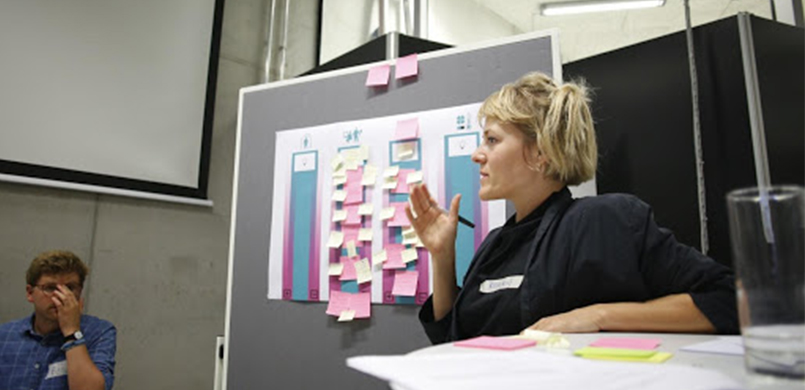 04 Dec

Local Co-creation Sessions (Hamburg, Antwerp)

MICADO was set up to improve arrival processes for migrants, and facilitate the work of administrations and NGOs working in the field. That is why an important pillar of the research project is the co-creative approach that involves all three groups of stakeholders.

The Hamburg group started this collaborative process with the kickoff event for the Local Expert and Stakeholder Committee on June 19, 2019 in the lab's facilities at HafenCity University. Beforehand, the group gathered a list of stakeholders both from administrations and from initiatives and associations that had been invited to the kickoff. About 50 people attended.

The event started with an informal get-together, after which the project was introduced by the project coordinator Prof. Jörg Rainer Noennig and the project managers Marie Malchow and Dr. Jan Barski. After an initial round of questions, the group split in two. The members of administrations and those working for NGOs and initiatives went into separate rooms for a briefing on the methods implemented in the following months of the project. The administrations gathered first information on data needed to improve their respective work. The members of NGOs got acquainted with the games that would be used in the co-creation workshops set up with NGOs and migrants in the succeeding weeks. All participants were invited to join the LESC and some volunteered to spread the news about the workshops in their networks in order to reach a larger group of potential participants.

In the following weeks, the researchers of the HCU team conducted their research: Six interviews with members of administrations were conducted on their work regarding integration of migrants and their using of digital tools and data to support their work. Five co-creation and co-design workshops were conducted with migrants, and one with NGOs, in which questions regarding difficulties in the arrival process in Hamburg were asked, and possible helpers and hindrances identified. The gathered data will be analysed in following step and central learnings will be fed into the technical development. This methodology is set up in order to make sure that the technical development meets the real needs of those affected by integration processes.

Following these initial contacts will be the introduction of a steady contact to the members of the LESC and those interested in the project progress. A newsletter will be sent out and regular communication established in order to secure feedback loops from the local stakeholders in Hamburg and the team of researchers and developers of MICADO.